Manual Retractable Awnings
SunSetter Awnings give you the ultimate in flexibillity and versatility. Put them on your deck, patio, pools, windows, in fact you can install them almost anywhere you want for comfortable, cooling shade. It can be up to 20 degrees cooler under the awning. Closes easily in less than one minute when you wan to enjoy the sun. Manuel awnings are full-featured, superb quality lateral arm awning at an exceptional price. An excellent value for budget conscious homeowners, who still demand the high quality lateral arm technology and look. Opens and closes in less than a minute, using a hand cranked gear mechanism. its sophisticated dual arm double cable system requires no vertical supports, and creates shade and protection any time you want.
Motorized Retractable Awnings (Most Popular)
Our top-of-the-line, most popular models, the ultimate in push button shade and protection.
Now simply press a button and get cool shade and protection instantly. The SunSetter Motorized and Motorized XL Awnings operate effortlessly in seconds, so you can control the weather on your deck or patio. These awnings are a "lateral arm" style. The motor operates strong support arms that open and close directly under the awning canopy. No vertical support arms are needed. They are the finest motorized awnings available today, unsurpassed for beauty, convenience, protection and affordability.
These remarkable awnings give you the same features — or better — than other electric awnings costing hundreds or even thousands of dollars more, including a sophisticated dual cable system that needs no vertical supports, plus a reliable SOMFY™ motor — the best in the industry — hidden inside the awning roller.
General Information
These exceptional vertical solar screens save energy and help keep your home cooler, lowing demand on your air conditioner, because they stop the heat before it can enter your home. Great for porches, sliders, gazebos, pergolas and more.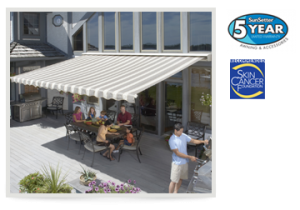 Swatches/Fabric
Warranty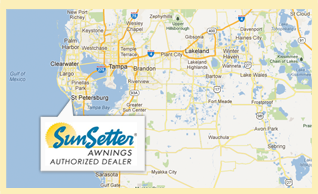 8415 125th Ct,
Seminole, FL 33776
Call us at (727) 320-2476