Retractable Awnings Provide Instant Shade!
Turn your backyard into your own personal vacation spot… entertain family and friends on your lawn, safe from the hot sun and harmful UV rays… have a festive get-together at night under our optional patio lights.
A SunSetter Awning lets you outsmart the weather, save energy, and cut energy costs. It transforms your deck or patio into a beautiful semi-permanent "outdoor room", a shady retreat where you'll love to spend time. It keeps your family and patio furniture cool and protected from hot sun, passing showers, and harmful UV rays far better than a tippy umbrella or other shade device. It can be as much as 20 degrees cooler under your awning.
No other awning gives you all the features, benefits and value of a SunSetter home awning. That is why SunSetter Awnings are the #1 best-selling retractable awnings in America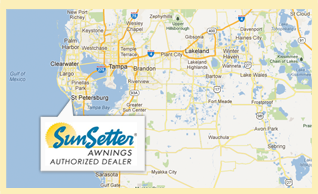 8415 125th Ct,
Seminole, FL 33776
Call us at (727) 320-2476